Leadership
"Keep watch over yourselves and all the flock of which the Holy Spirit has made you overseers. Be shepherds of the church of God, which he bought with his own blood." (Acts 20:28, NIV)
As pictured left to right:
Dale Ried, Elder
806-316-1732
Norman Mullin, Elder
806-679-0204
Vance Morrison, Elder
806-341-7925
Loran Harper, Elder & Sr Minister
806-376-4420
Deacons
All of our deacons serve year round with responsibilities in various works. However, for one quarter they take on extra leadership responsibilities. They are pictured below with their four-member leadership team (DLT). They are all hard working and faithful brothers, blessing our church in countless ways.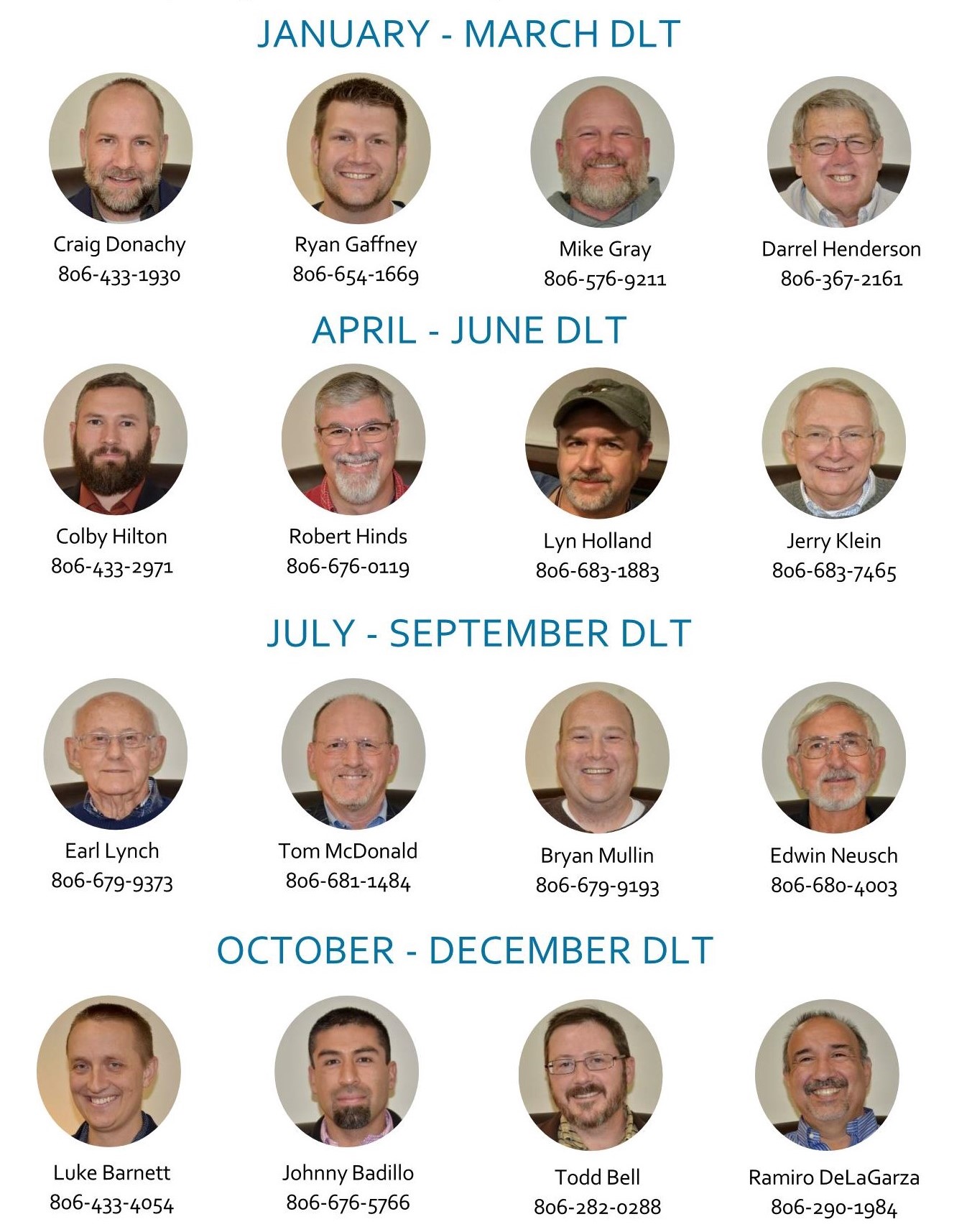 SENIOR MINISTER
Loran Harper
806-376-4420
loran@comanchetrail.net
Loran is one of our elders and serves part-time as a minister on staff. He previously served as our preaching minister for 38 years. Loran began his ministry at Comanche Trail June 1978 and has continued ever since bringing remarkable spiritual leadership to this church family. Before his work with Comanche, he preached in Happy, TX for four years and did youth ministry for five years. He and his wife, Mary, have four children and nine grandchildren.
Preaching Minister
David Pounds
806-241-8868
david@comanchetrail.net
David has served Comanche Trail since July 2016. He is married to Saundra and they have two kids, Elishua and Elyann. Prior to his move to Amarillo, David worked in campus ministry for 11 years with the Broadway church in Lubbock, served as an adjunct Bible instructor for Lubbock Christian University for 5 years, and as an Associate Minister for the 12th Street church in Shallowater, TX.
Youth Minister
Derek Chance
806-231-3154
derek@comanchetrail.net
Derek has served as our youth minister since 2001, but also takes responsibility for a good portion of the church's IT needs and Men's Ministry events. Before moving to Amarillo, he worked with high risk youth in Oregon for five years and did vocational youth ministry, as well as working as a youth minister in Rockdale, TX for six years. Derek and his wife Kim have two children, Keaton and McKensi. Their family blesses the church in countless ways.
Prison Minister
Leonard Harper
806-336-4848
cpf_leonard@comanchetrail.net
Leonard has served as the Prison Minister at Comanche Trail since November 2007. He is passionate about sharing the gospel with inmates. Leonard leads church services, teaches classes, and coordinates a team of volunteers from area congregations to mentor and serve those who need a message of grace, hope, and good news. Before beginning this ministry, he preached for the San Jacinto congregation for two years and for Spearman Church of Christ for 8 years. He is married to Cheryl, and they are the parents of three daughters and the proud grandparents of eight grandchildren.
Secretary
Greta Morrison
806-373-4190
ctcc@comanchetrail.net
Greta has served as our church secretary since 1996. She and her husband, Vance, have been members at Comanche since 1983. They have two sons, Anthony and Andrew, a granddaughter, Mabel, and another grandchild on the way! Greta does an excellent job as our church secretary. In addition, she works tirelessly in our children's ministry program as one of the most creative and devoted teachers you'll meet. We are blessed to have her.
Custodian
Darrel Henderson
806-367-2161
darrel_beverly@yahoo.com
Darrel began serving in this role in 2018—service which he does with excellence. He and his wife Beverly have been members of Comanche Trail since November 2009. They also served as house parents with our Children's Emergency Home ministry for over seven years. Darrel and Beverly have two children and five grandchildren. Darrel is also one of our deacons. He and Beverly are hardworking servants who bless the church family greatly.